Bird-Wing Abdominal Phalloplasty aims to minimize complications and does not include microsurgical nerve connection. It is a simpler, pragmatic procedure, which benefits patients, who wish to minimize scarring.
In order to create a more natural appearance of the phallus, electrolysis is usually required.
Depending on the surgical team vaginectomy can be offered as a follow-up procedure, or rather urethroplasty, using tissue from the forearm, mouth or vagina.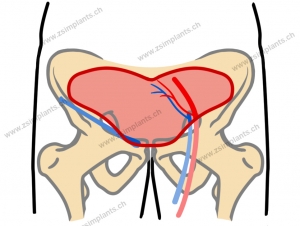 The phallic sizes vary between 7.5 and 12.5 centimeters. If desired, penile implants and urethral extensions are subsequently possible. In this procedure a lower abdominal incision is made, which leaves a minimal linear scar.
The procedure enables the patient to urinate while standing. Sexual intercourse is possible, if the device is implanted, however erotic sensations in the phallus and orgasms can not be expected. The clitoris, which is preserved in its place or buried, can be directly stimulated. Tactile sensations may extend further into the penis from the base.
ZSI is the only European manufacturer of artificial urinary sphincters and of malleable and inflatable penile implants, as solutions for male urological problems (incontinence), sexual complications (Erectile Dysfunction), and gender identity procedures (prostheses for trans men and women).
IF YOU WISH TO REACT, PLEASE LEAVE US A MESSAGE
HERE!
IF YOU WISH TO REACT, PLEASE LEAVE US A MESSAGE