ZSI 475 EXPANDER MTF
VAGINAL STENT
---
An oblong silicon balloon, connected by a tube with a valve system to maintain the vaginal stent inflated.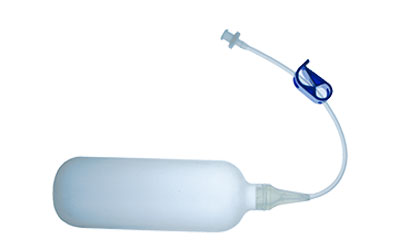 ---
Expander inflatable with air.
Made of silicone with coating of parylene to be air tight. Biocompatible components.
Length 9 cm or 12 cm.
Diameter 4 cm.

WHY A VAGINAL EXPANDER FOR MTF POST-VAGINOPLASTY ?
---
The internal wall created is covered with tissue (scrotum skin, coating of the urethra etc.). If not kept open, it can retract or become necrotic.

New vascularization must be created to «feed» the new organ by keeping the walls of the neo-vagina stuck together.

The ZSI 475 EXPANDER facilitates vaginoplasty procedures and assures good scarring of the neovagina walls.
POST-SURGERY DEVICE
The balloon is inflated with air and blocked with the valve when the desired firmness is achieved.
HOW TO INSERT?
The ballon is inserted by the surgeon just after the vaginoplasty-procedure is completed.
HOW LONG TO KEEP IT?
The ZSI 475 EXPANDER is taken off after a few days, according to the recommendation of the surgeon. It is a one-use device.
It doesn't replace the regular dilatation for MTF.