Article from BILD newpapers on the 23.03.2023.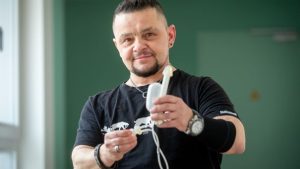 Michael Casper (51) shows a penile prosthesis with a pump and reservoir. A similar one has been implanted.  Photo: Stefanie Herbst
Michael Casper (51yo) from Berlin has known since he was about six years old that he was living in the wrong body. After four decades of psychological suffering, he completed his physical transformation into a man by having a new kind of penile prosthesis implanted.
It is a feat of plastic and cosmetic surgery, but also a prosthetic world first. Michael Casper, born female, now has a male sex organ that can be erected with the help of a small plastic pump.
But from the beginning, Michael Casper remembers: "When my mother put a skirt on me, I made a big fuss. In the schoolbag I always had a pair of trousers, I changed clothes before going to school. Later, he attached his breasts. "Once I was an adult, I found myself in front of the mirror wondering what I was: a man or a woman?" Identity problems and self-doubt led to depression and alcohol consumption. It was at the age of almost 50 that he first googled "trans".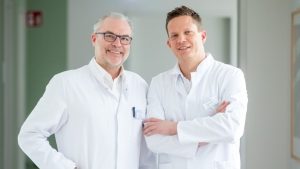 Dr. Sascha Bull and Dr. Moritz Scholten, specialists in plastic and cosmetic surgery. Photo: Stefanie Herbst
Casper presented himself at the largest trans surgery centre in the German-speaking world, the Evangelische Elisabeth Clinic in Berlin-Tiergarten (600 trans operations per year). Dr. Sascha Bull (51), head of the clinic, and his colleague Dr. Moritz Scholten (42) operated on him seven times, for a total of 15 hours.
First they removed her female mammary glands, the uterus and ovaries were recovered. The implantation of the prosthesis is done in the last stage, after the phalloplasty.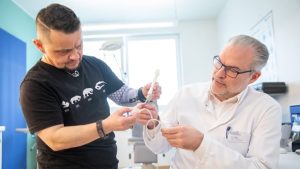 Michael Casper receives an explanation from Dr. Sascha Bull on the installation of the prosthesis. Photo: Stefanie Herbst
"We formed a penis, called a neopenis, from the tissue of the forearm, including the new urethra, nerves and blood vessels," Bull explains. They sewed it to Casper's abdomen and inserted the newly designed prosthesis. They implanted a 50-millilitre reservoir of saline solution under the abdominal muscle in the pelvic wall. Bull: "When the patient activates the pump, the saline solution inflates the cylinder and the hydraulic prosthesis recovers.
Michael Casper says: "For the first time in my life, I feel happy and comfortable in my body. His penis is even sensitive to sensation: the old clitoral nerves are at the tip.
Orignal article: Weltneuheit aus Berlin: Ärzte implantieren hydraulische Penisprothese | Regional | BILD.de
IF YOU WISH TO REACT, PLEASE LEAVE US A MESSAGE
HERE!
IF YOU WISH TO REACT, PLEASE LEAVE US A MESSAGE