We were at the Cavale Blanche hospital to meet Prof. Weiguo Hu during a new implantation of inflatable implant ZSI 475 FTM for the phalloplasty.

Prof. Hu is president of the French society for plastic, reconstructive and aesthetic surgery. We were present with Dr Llorens for the surgery. The team were very welcoming and the operation went well.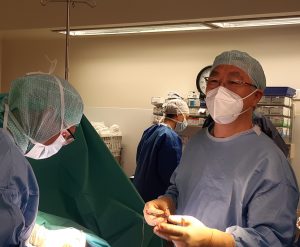 The Professor has already implanted malleable and inflatable ZSI implants several times. When we asked him about the different types of implants, he replied: "Personally, I think the inflatable implant has more advantages compared to the semi-rigid implant. In fact, most of my actual patients are choosing inflatable prostheses."

We were pleased to interview Prof. Hu, the video will be available in the next days on our Youtube channel…!

In the meantime, if you have any question about the inflatable implant ZSI 475 FTM, please take a look at our FAQ page or write us!

ZSI is the only European manufacturer of artificial urinary sphincters and of malleable and inflatable penile implants, as solutions for male urological problems (incontinence), sexual complications (Erectile Dysfunction), and gender identity procedures (prostheses for trans men and women).
IF YOU WISH TO REACT, PLEASE LEAVE US A MESSAGE
HERE!
IF YOU WISH TO REACT, PLEASE LEAVE US A MESSAGE