Some patients contacted us to know if it was normal that the implant was sometimes difficult to inflate at the beginning?

If you have difficulties to inflate the implant when you try it at first, it is absolutely normal.

It takes some time for the pump to fit correctly in the scrotum. During the healing time, it might stay sore around the pump. Always wait for the post-op appointment with your surgeon before manipulating the implant. We have a dedicated section about post-op recommendation in the FAQ.

Once healing is complete, your surgeon will show you how to use the prosthesis.

It is necessary to give it time so that tissues gradually regain some elasticity. Under the weight of the pump, the scrotum will enlarge and the pump will move away from the pelvis. Thus, inflation will be easier and easier.

To inflate the prosthesis properly, our advice is to make small repeated pressures to facilitate the passage of the liquid from the reservoir to the prosthesis.

To deflate the prosthesis, simply press both valves at the same time as shown on the picture below. You don't have to force it. The valves are strong but they are sensitive, so a normal pressure is sufficient. You can also speed up the deflation process by pressuring slightly the phalloplasty.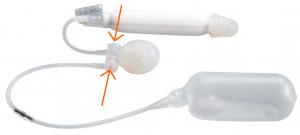 Above all, remain patient, and do not hesitate to exercise daily to make it easier. The pump will become softer with time and use.

If you want to share your experience, write to us by filling out the form below!

ZSI is the only European manufacturer of artificial urinary sphincters and of malleable and inflatable penile implants, as solutions for male urological problems (incontinence), sexual complications (Erectile Dysfunction), and gender identity procedures (prostheses for trans men and women).
IF YOU WISH TO REACT, PLEASE LEAVE US A MESSAGE
HERE!
IF YOU WISH TO REACT, PLEASE LEAVE US A MESSAGE