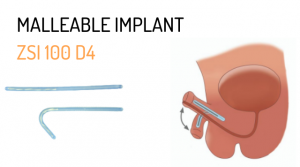 A metoidioplasty with penile implant ZSI 100 D4 was performed by Dr. Madec and Dr. Vidart in Foch hospital, in France.

The surgery went very well, and both surgeons are very satisfied with the implants.

Thank you very much for sharing this picture with us, and congratulations to the whole team!

Find all details about the implant for the metoidioplasty here, and feel free to write us if you have any question.

ZSI is the only European manufacturer of artificial urinary sphincters and of malleable and inflatable penile implants, as solutions for male urological problems (incontinence), sexual complications (Erectile Dysfunction), and gender identity procedures (prostheses for trans men and women).
IF YOU WISH TO REACT, PLEASE LEAVE US A MESSAGE
HERE!
IF YOU WISH TO REACT, PLEASE LEAVE US A MESSAGE